Last week, I wrote about my top reads of 2017. This week, I want to share the books I'm most looking forward to reading in 2018. My to-read list has 90-plus books on it, but I'm only sharing my Top 20.
My reading goal for 2018 is to finish 50 books. I have one down and 49 more to go.  The book I've already finished is The Lost Letter by Jillian Cantor. It's a novel that takes place in World War II Austria and in 1989 Southern California. The story goes back and forth between Katie and her family in California and a Jewish family in Austria. The item that connects them is a rare stamp on an unposted letter. I actually started this novel in 2017, but finished on New Year's Day. So it counts.
I went to my local library today. I got the Paulette Jiles book from this list. That should be my next read. I also put a hold on the Jenny Colgan book and The Music Shop by Rachel Joyce.
So I'm working through the list. I also picked up a couple of books that didn't make my Top 20, just in case I need something extra. I love the library.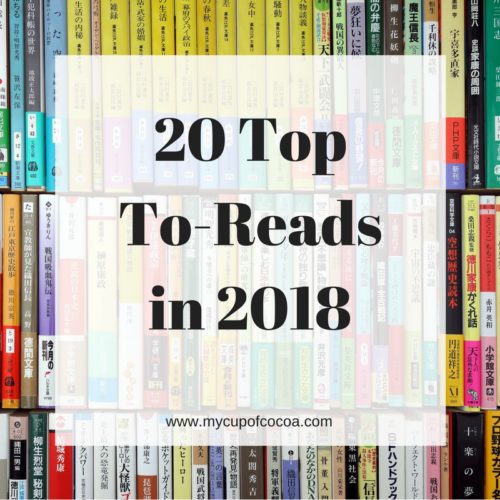 My Top To-Read Books for 2018
Please note that this post contains affiliate links. If you click on them, you will be directed to Amazon. Buying a product may give me a small commission, but will not cost you any extra. See disclosure page for full details.
1. Norse Mythology by Neil Gaiman
I am a Neil Gaiman fan and I find Norse mythology interesting, so this is a no-brainer. If you're a fan, try this book released in 2017.
2. Being Mortal: Medicine and What Matters in the End by Atul Gawande
So this isn't going to be a light read. Written by a doctor, it looks at death, dying, and the role of medicine in end of life situations. But it has incredible reviews, and I try to read a few "serious" books each year.
3. The Lost Letter by Jillian Cantor
This is the book I've already read this year. It has many of my favorite things; a World War II setting, a lost love, and a mystery.
4. The Bookshop on the Corner by Jenny Colgan
This has been on my to-read list for a while. The wait list at my local library is fairly long, but this will be the year I actually get my hands on it.
5. Allie and Bea by Catherine Ryan Hyde
I became a Catherine Ryan Hyde fan last year. This is the next book of hers on my list. The title characters are two women, separated by decades of age and experience, but drawn together out of need and friendship.
6. The Grave's a Fine and Private Place by Alan Bradley
I'm a huge fan of this mystery series. This book is supposed to be released in February. I can't wait to read what Flavia de Luce gets into next.
7. Ready Player One by Ernest Cline
This is another young adult dystopian novel. It's the first in a series and is already being made into a feature film. Think The Hunger Games or Maze Runner.
8. The Music Shop by Rachel Joyce
Key words for this novel are 1980s, music, and London. Some of my favorite things. It sounds like a fun read and I'm looking forward to it.
9. The Cottingley Secret by Hazel Gaynor
A fictionalized story based on an event that happened in 1917. Two girls in Cottingley, England took photographs of fairies in their garden. It caused a media frenzy at the time. Sir Arthur Conan Doyle, creator of Sherlock Holmes, was convinced of the photographs' authenticity.
10. Sourdough: a Novel by Robin Sloan
I loved Sloan's Mr. Penumbra's 24-Hour Bookstore: A Novel
. This is another highly-acclaimed novel that is also set in San Francisco. And I love sourdough, so it's a given that I need to read this.
11. Wishtree by Katherine Applegate
A new book by the author of The One and Only Ivan
(one of my absolute favorite children's stories). Wishtree is an old oak named Red. The neighborhood ties wishes to her branches and she watches over and cares for everyone. Then a new family moves in and conflict ensues.
12. Anne of Cleves: Henry VIII's Discarded Bride by Elizabeth Norton
I always try to read a few history books each year. Anne of Cleves was one of the few women who married Henry VIII and survived. She is usually thought of as dull and unattractive. After seven months of marriage, Henry claimed he was impotent in order to obtain a divorce. Anne gained her freedom, kept her head, and became quite wealthy in the bargain. Maybe not so dull after all?
13. Prayers for Sale by Sandra Dallas
This is another story about the power of female friendships. I'm a sucker for those. This one is set in depression era Colorado. It came highly recommended to me from several friends, so I've got it on my list.
14. The Bear and the Nightingale by Katherine Arden
Arden puts a twist on traditional Russian fairy tales in this novel. It is the first in a series and has 4 1/2 stars on both Amazon and Goodreads. I'm a big fan of retold fairy tales. So this is high on my to-read list for 2018.
15. Something Like Happy by Eva Woods
With a title like that, I didn't expect the main character to be a terminally ill woman. Polly is 35 and facing her own mortality. She meets Annie. Annie is introverted and overwhelmed with caring for her  ill mother. Polly is bubbly and outgoing. She befriends Annie and they embark on a happiness challenge. 100 days, 100 ways to be happy. Another great story about female friendships and overcoming the trials of life.
16. The Great Alone by Kristin Hannah
I loved Hannah's The Nightingale: A Novel
. So I figured I needed to give her latest novel a shot. It takes place in 1970s Alaska.  Family drama and survival in a forbidding environment are themes in this story.
17. As Bright as Heaven by Susan Meissner
This is the latest book by Susan Meissner. This story is set in 1918 Philadelphia. The main characters include a mother and her daughters trying to survive during the Spanish Flu epidemic. Meissner's books always leave me satisfied, so it's on this year's to-read list.
18. The Color of Lightning by Paulette Jiles
This book is sitting on my bedside table as I write. I read Jiles' News of the World
 in 2017 and loved it. This novel actually came before News of the World. It tells the story of former slave Britt Johnson and his family as they strive to make a life for themselves after the Civil War in North Texas.
19. Forty autumns: a Family's Story of Courage and survival on Both Sides of the Berlin Wall by Nina Willner
Nina Willner's memoir sounds fascinating. At the age of twenty, Nina's mother Hanna escaped East Germany and settled in the West. Eventually she moved to the United States, settled down with her husband and raised a family. She left her parents and siblings behind. Forty years later, the Berlin Wall came down and the family was reunited. I think it will be another great history book for my to-read list.
20. Dear Fahrenheit 451: Love and Heartbreak in the Stacks: A Librarian's Love Letter and Breakup Notes to the Books in Her Life by Annie Spence
I have often wished I was a librarian. It seems like such a rewarding job. Annie Spence is a librarian and this book contains her love letters and break up notes to the books in her life. I figure it might give me some ideas on what to add to my to-read list once I've made my way through the 20 books listed above. It's also supposed to be laugh-out-loud funny, so it's definitely on my top to-reads for 2018.
So there you have it. My top 20 to-read books for 2018. Stay tuned. In a few months I'll post an update on how the reading has gone and if these books have lived up to expectations.
What is on your to-read list in 2018? What have I missed than I need to add to my to-read list? Please share your thoughts in the comment section below.
Thank you for reading and please use the social media buttons to share with anyone who might be looking for a good book to read.