One of my favorite things about the end of the year (besides Christmas) is all the year in review stories that you can find just about everywhere. You know the ones. The biggest news stories, the top songs, the best viral videos, and so on. If you haven't seen any yet, you will. I'm adding one more to the list. This is a list of my favorite reads from 2017.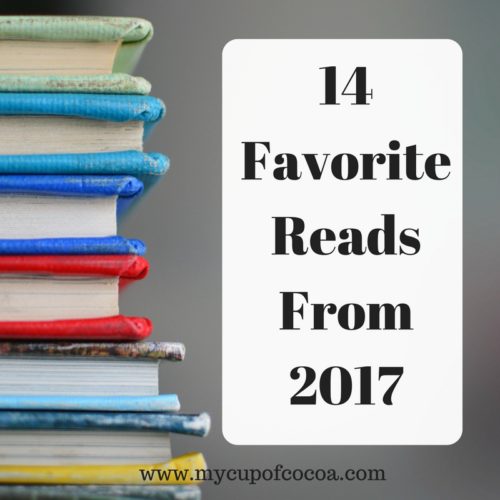 I set a goal to read 50 books in 2017. I'm finishing the year having read 77. Some people may think I have a problem. But I love reading and I love many different types of books. I keep track of what I read and what I want to read on Goodreads,com. My to-read list has 90+ titles on it right now. So I'll have plenty of books to help me reach next year's goal of 50 more books.
If you've never been on Goodreads, it's the world's largest site for readers and book recommendations. On the website, you can "friend" people and share reading lists, you can create "bookshelves" for your own reading uses, and you can read reviews and get recommendations on millions of books. My Goodreads' bookshelves have 1200+ books on them. Fiction is my biggest shelf, followed by fantasy/sci-fi and non-fiction. My shelves include travel books, history, juvenile literature, mysteries, romance, spiritual, picture books, and teen fiction. I read books from a lot of different genres.
My favorite reads from 2017 run the gamut. Some are non-fiction. Historical fiction also plays big this year. There are several kids' books. And some great fiction too. I'm sure you'll find some good reads for yourself.
14 Favorite Reads From 2017
Please note this post contains affiliate links. If you choose to purchase something from the affiliate, it will not cost extra, but I may make a small commission. See disclosure page for details.
Historical Fiction/Fiction
News of the World by Paulette Giles
I wrote about this book a few months back. It's on my recommend to everyone list I read it over the summer and it was instant love. It takes place in post-Civil War Texas. The main characters are an elderly, retired military man and a young girl who was stolen by a Native tribe, raised as one of their own for 6 years, and then returned to the white world.
Ask Him Why by Catherine Ryan Hyde
Hyde is another author I discovered in 2017. she writes meaningful stories about family, loss, and redemption. This story revolves around the decisions of one young soldier and the effects they have on his whole family.

Beneath a Scarlet Sky by Mark Sullivan
This novel is based on the true story of Pino Lella, a young Italian who became a World War II hero. It is being made into a movie starring Tom Holland. Lella took incredible risks to save others and to thwart the Germans. His post-war life was also fascinating.

The Edge of Lost by Kristina Mcmorris
Did you know that civilians used to live on Alcatraz Island? In addition to the prisoners, prison staff and their families also lived on the Rock. That is only one part of this riveting story.
The Sisters of St. Croix by Diney Costeloe
Another novel based on true stories and set during World War II. What can I say? I like that kind of book. This one is about nuns in France who helped hide and transport Jewish families.
Fantasy
The Woodcutter 
by Kate Danley
I love it when an author takes an old fairy tale and gives it a new twist. This is one of those stories. Danley combines fairy lore, folklore, and many classic fairy tale characters to tell a new story all her own.
A Face Like Glass by Frances Hardinge
Okay, I confess, I've read nearly everything Hardinge has published. She writes for both the juvenille and teen/young adult markets. This story is definitely for young adults. The whole story takes place in an underground civilization where no one can show natural emotion on their faces. The people have to be taught expressions like happiness, fear, despair, and pleasure by Facesmiths.  Learning which face to wear when is crucial to survival in this community. The wealthier a person is, the more "faces" they have. Faces bring people power. Into this realm appears a girl who has a face like glass. Every thought and emotions she has flits across her face. She must hide it under a mask and hide her true identity from those that fear her and want to do her harm.
Juvenile Literature
The Candymakers by Wendy Mass
This one reminded me a little of Willy Wonka. There is a candy inventing competition, with four kids competing in a candy factory. Each character has a secret back story that comes out as the novel progresses. It was recommended to me by a teacher friend. I really enjoyed it. Probably for readers 3rd grade and up.
The Song From Somewhere Else by A.F. Harrold
This book has found its way onto several best lists for 2017.  It's a bit like Roald Dahl or, maybe, Neil Gaiman. Frank is being bullied by some neighborhood boys. A strange boy from school, Nick, defends her. Much to her initial horror, he then befriends her. But all is not as it seems.
The Girl Who Drank the Moon by Kelly Barnhill
Winner of the 2017 Newberry Medal. This one is destined to become a classic of children's literature. Every year, the people of the Protectorate leave a baby in the forest for the evil witch that demands a sacrifice. Or so they think. In fact, the witch is good and delivers the abandoned children to families on the other side of the forest. It is something within the walls of the Protectorate that is truly evil.
The Fourteenth Goldfish by Jennifer Holm
For grades 5+. Ellie Cruz is unhappy at school and with life in general. Then her goldfish dies (again, it turns out) and her mom brings home a boy about her age named Melvin. Things do not look like they're looking up. But Melvin ins't any ordinary boy and, soon, Ellie and Melvin are having some crazy adventures.
Summerlost by Ally Condie
For Middle School Readers. Cedar's family has suffered a tragedy and they are spending the summer in the small town of Iron Creek. The town is known for it's Summerlost theater festival. Cedar soon gets a job working at the festival, makes a new friend, and, together, they solve a mystery,
Non-Fiction
A Mother's Reckoning by Sue Klebold and Andrew Solomon
Sue Klebold is the mother of one of the Columbine shooters. She writes about the tragedy, the days and years leading up to it, and it's aftermath.  I hesitated adding this one to the list because it is controversial. Klebold is donating all her profits to charities and mental health research and support.  Her story is heartbreaking, but also educational. This is a side of the story I hadn't heard, but wondered about.
Some Writer! The Story of E.B. White by Melissa Sweet
It was by reading this book that I learned E.B. White of Charlotte's Web fame is also White of Strunk and White's Elements of Style. This book is written for the juvenile market, but will be interesting to adult as well. I love the colorful illustrations and the inclusion of White's personal notes. It's part history book, part biography, and part picture book.  White also wrote for The New Yorker for more than 50 years. And all I knew about him before reading this book was his popular children's stories.
There you have them. My 14 favorite reads from 2017.
 I'm working on another book post that includes 20 books (or more?) that I can't wait to read in 2018. What's on your to-read list? Should I add something to mine?
Thanks for reading and please use the social media buttons to share.